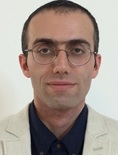 Ali Kazemian
+989155033050
Ali Kazemian is the President of the Iranian Association of Community Oral Health (since Dec 2020), an Assistant Professor and chair of the Department of Community Oral Health at School of Dentistry, Mashhad University of Medical Sciences in Iran (since Sep 2014).
He holds Doctor of Dentistry from Mashhad University of Medical Sciences, Mashhad, Iran, and Ph.D. (summa cum laude) from Shahid Beheshti University of Medical Sciences, Tehran, Iran. He had the one-year PhD internship during 2012-2013 at University Hospital Basel, Switzerland and a two-month research opportunity during Aug-Sep 2018 at Brocher Foundation, Geneva, Switzerland. Following his visit to several academies and meeting with academics in the US and Europe, he relocated back to Iran. His research is focused on critical ethical and professional issues of dental practice such as overtreatment.
He has led to several research presentations in international conferences such as the congresses of International Dental Ethics and Law Society, European Association of Dental Public Health, American College of Legal Medicine, Cambridge Consortium for Bioethics Education, and Methodological Issues in Oral Health Research. His papers named "Iranian Dentistry" (published in the series of Journal of American College of Dentistry. 2018; 85(1) on dentistry in other countries) and "How Much Dentists are Ethically Concerned about Overtreatment; a Vignette-Based Survey in Switzerland" (published in BMC Medical Ethics Journal. 2015; 16:43) are two of his main publications.
He was the head of the 4th Iranian Congress of Community Oral Health which was held in 28-29 Nov 2019 in Mashhad, Iran. Ali has been an active member of academic and professional committees such as the Iranian Strategic Committee of Oral Health and Community Dentistry and the Iranian Excellence committee of Dental Education- MOHME.
Beyond oral health, he loves travelling, learning new languages, watching movies and connecting with people from all around the world with diverse cultural perspectives. Ali is a communicative and social person and has a passion for teaching and mentoring. He is interested in building international collaboration in research about, and action toward, equitable and fair distribution of oral health care and diminishing the current oral health inequalities.