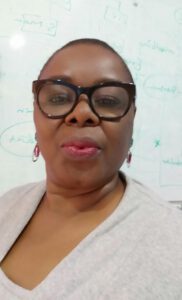 My name is Salomey Eferemo.  I am  CEO of the Partnership for the Eradication of Cancer in Africa (PECA).
A little bit about my background. I am a Nigerian and I live in the Federal Capital Territory, City, of Nigeria,  Abuja. I'm a media consultant with a Theatre Arts degree from the University of Jos, in Plateau State, Nigeria (1991). My training includes obtaining a Teacher's training diploma in English and Drama from the Ahmadu Bello University, Zaria, Kaduna State (1981).
I have spent  of my early life time acting, now am producing television programs, setting up  television stations , designing programs for radio and television , producing some of the programs I design. I am  currently serving as a member of the  Board of Directors of the Independent Television and Radio , Benin City Nigeria.
I'm also a single mother of three and love traveling, meeting people, writing and reading.
Why Cervical Cancer?
I came in contact with cancer Advocacy while serving as an Executive Director  in DAAR Communications Plc. I was nominated to represent DAAR as a member  of the PECA steering committee in PECA at the Transcorp Hilton ABUJA. The launch of PECA was supported and propelled by Inspire2Live in collaboration with the President of PECA ,Benjamin Ogbalor.
At the launch & after I realized the role media plays in advocacy and sensitization. I have facilitated several media appearances to push cancer advocacy.
After I voluntarily left DAAR my attention was drawn to women suffering from cervical cancer. My doctor advised that my daughter, then about 12 years old, should be vaccinated against cervical cancer as a lifetime prevention. I got excited, gave my daughter her shots went for a test and also got vaccinated.
I have decided to use my media reach, my media experience , along with my skills as a teacher to reach children in schools , who in turn will reach their parents, advocating for the PREVENTION of cervical cancer in Nigeria and indeed Africa . So my answer to the question why cervical cancer?
Because cervical cancer is one cancer that can truly be eradicated by prevention