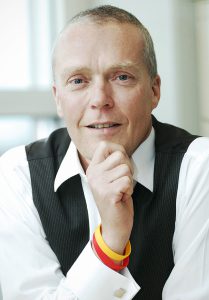 Patient Advocate and Executive Board: Peter Kapitein (1960)
+31652496099
peter.kapitein@inspire2live.org
www.peterkapitein.nl (website is mainly in Dutch but some columns are in English)
Twitter: @milojaron
Facebook: http://www.facebook.com/peterkapitein
LinkedIn: https://www.linkedin.com/in/peterkapitein/

Who am I
I am a Patient Advocate of Inspire2Live. Since 2005, I live with a lymphoma and show others that cancer does not have to be a death sentence, but can also be the start of a new and richer life, full of opportunities and beautiful people. A Happy and Healthy life in Harmony with cancer. I am employed by the Dutch central bank, which facilitates me to work three days a week for Inspire2Live and its mission. My job enables me to be genuinely independent and to always choose for the patient. Patients First!
Why
I've always had good care. Good nurses, good doctors, good treatments and good hospitals. However, I realize that not everyone has this experience. Not in other countries and not even in the wealthy Netherlands. I want to contribute to patients and let them have the same good care that I experienced. I see it as my mission and duty to never ever quit and be there for everyone that needs me. Wherever in the world.
Specialties
My work as a Patient Advocate concentrates around networking, giving talks and writing articles about the fight against cancer. I am working on: changing healthcare for the benefit of patients, early access to drugs, the research agenda for cancer and Personalized medicines.
I have received an Honorary Doctorate at the Free University of Amsterdam on the 19th of October 2012.