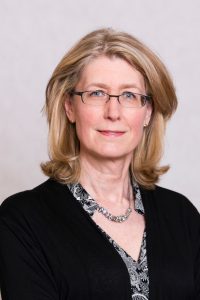 Patient Advocate: Karin Holm
Karin Holm is the founder of the Swiss non-profit association, Patient Advocates for Cancer Research and Treatment (PACRT), whose goal is to bring the patient perspective into all aspects of Swiss cancer research and clinical practice by placing informed volunteer patient advocates onto advisory committees, boards, and commissions.
Karin was appointed in August 2015 as a titulaire commissaire to the Geneva Commission cantonale d'éthique de la recherche (CCER) — which is the ethics committee and scientific review board for all research involving human subjects in the canton and republic of Geneva — as the first patient representative to serve in this capacity. Since 2013 she has been involved in the organizing group of the Swiss branc h of the European Patients' Academy for Therapeutic Innovation (EUPATI) on the Swiss national liaison team (NLT), representing the French-speaking part of Switzerland.
An early stage breast cancer survivor in 2012, Karin was also a carer for her late mother who died following surgery for pancreatic cancer in 2010. Her exposure to Inspire2Live's patient advocacy work was the motivating spark to begin learning more about the role of patient advocates in the Swiss cancer research and medical community.
In her professional life, Karin works for the Council for International Organizations of Medical Sciences (CIOMS) in Geneva, Switzerland as technical collaboration coordinator for various CIOMS multi-sectoral expert working groups on topics concerning drug safety/ pharmacovigilance. Previously she held positions in or consulted to the World Health Organization, Global Forum for Health Research, Initiative on Public-Private Partnerships for Health, and International Federation of Pharmaceutical Manufacturers and Associations in the area of public-private partnerships in global health. Karin earned a Master of Business Administration from the Tuck School at Dartmouth in Hanover, New Hampshire, USA and a Bachelor's degree from Dickinson College in Carlisle, Pennsylvania, USA.
She, her husband and her son are dual-citizens, Swiss and American. Her English cocker spaniel is French.
Karin R. Holm
President, Association PACRT
Patient Advocates for Cancer Research & Treatment (PACRT)