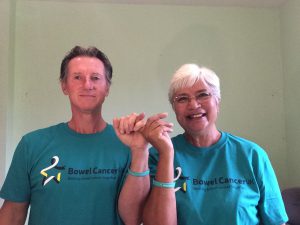 Patient Advocate: Barbara Moss
I was introduced to Inspire2Live when I met Peter Kapitein in Brussels. We were both at a Forum held by the EORTC that encouraged all parties involved in helping cancer patients to work together. I was instantly impressed by the gentle nature in which Peter got his message across and I found out all I could about his ideas through the internet. This has brought both me and my husband, Mark, to the organisation of Inspire2Live.
I was diagnosed with Stage IV CRC in 2006 and was told that there was no hope for me with a prognosis of only 3 months and palliative care prescribed. Treatments were failing and really, it was mainly through our own research that we learnt about new medicines being used in Europe and America. We asked about these and agreed to pay for the treatment. I had a fantastic response and my tumours became operable after just 4 treatments. Even after a recurrence, I was able to have further treatment and I have been cancer free now for 7 years.
I was so saddened to see all the friends I had made in the hospice die one by one. This could not be right. There are treatments out there and patients are not able to access them. I would surely be dead if we had not found out about a treatment that worked for me and allowed resection.
I felt that I had to do something. We have fantastic doctors, nurses, surgeons. Why is the Government holding back their capabilities? Doctors' hands are tied and it is only through the force that we can place through relating our own experiences that we can bring people together to work quickly enough and help those in need.
My voluntary advocacy work has taken me far. I am a Patient Ambassador for Bowel Cancer UK and Europacolon, recently gaining a position on the Board of Directors with Europacolon. I also chair an Expert European Patient Advisory Group called EPAG under their wing. I have made many presentations, including places such as Westminster and European Parliament where I was part of presenting a White Paper on basic cancer care for Europacolon. I have spoken on several occasions during the World Congress on CRC and also for other organisations in Europe and America. I have taken my story to the press, both in the UK and abroad.
There is progress being made in cancer treatment but we could do so much better. We need to be giving the right treatment to the right person. This way, we would be giving patients and their families a better life, we would not be drawing so much from the state and we would be spending less money. Who are the losers?